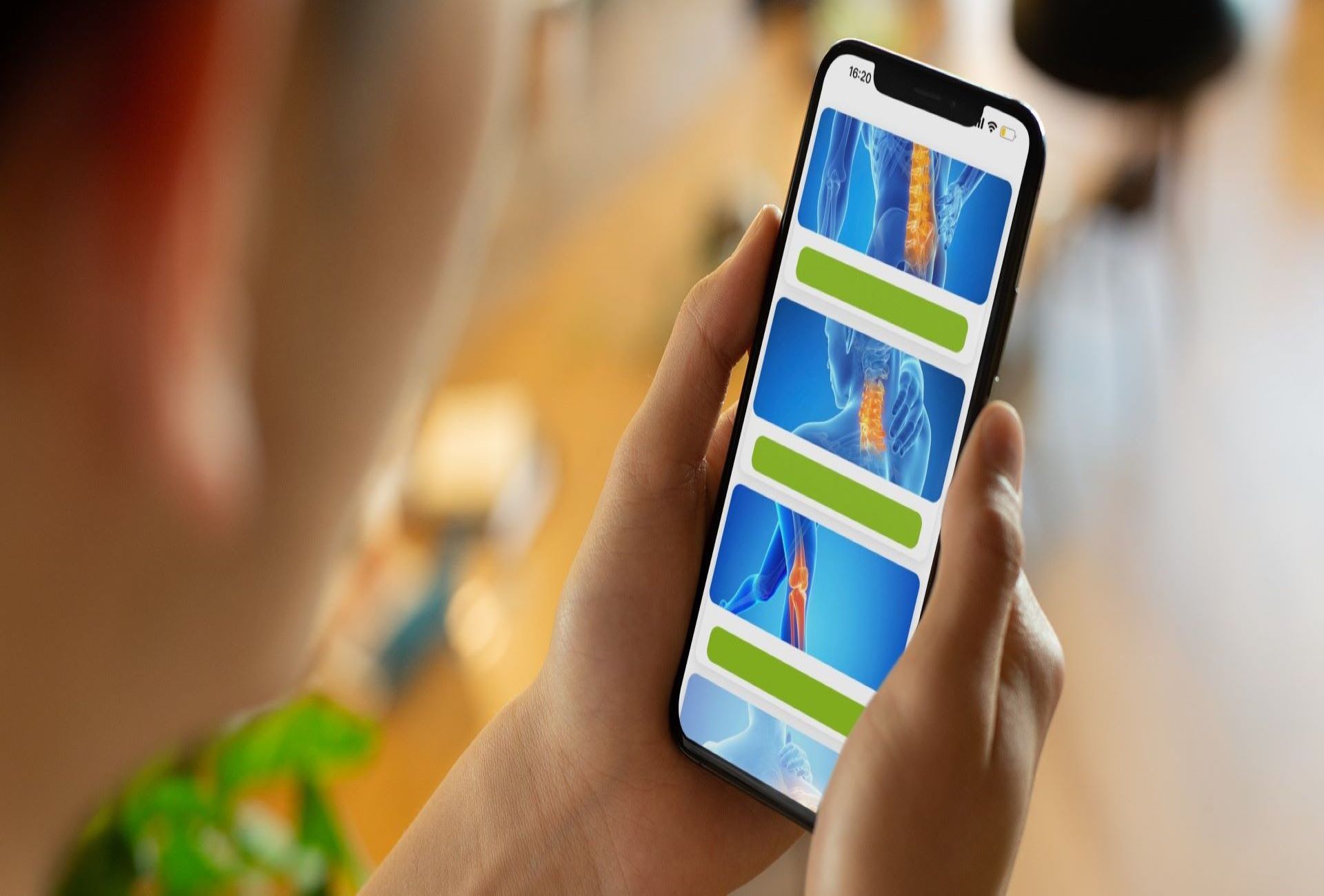 Need help with your muscle or joint problems?
The getUBetter MSK app is provided free of charge by Frimley Health & Care ICS for registered patients at GP Practices. It can be accessed on a Smartphone or on the Web, and guides you day-by-day through a sequence of exercises, tips, and support to help you recover from a range of new, recurrent or long term conditions:
Lower back pain
Back and leg pain
Neck pain
Shoulder pain
Ankle pain
Knee pain
Soft Tissue Lower Limb pain
Hip pain
You can self-refer to the app by clicking on this link
Please use an email address that is unique to you and select the condition you need help to manage. We will then send you an email with all the information you need to get started.
You can download the getUBetter MSK app to your Smartphone for easiest access, or you can use the Webapp.
If you develop another condition, select your new condition from within the app and it will be added to your account.
Worried about Strep A or Scarlet Fever?
Dr Streeter De Diego, local GP, Paediatric Doctor & Clinical lead Frimley Healthier Together, talks through what to do if you're worried and when to seek help.
Directory of Support during the cost-of-living crisis
23 Nov, 2022
We know that people all across Surrey are feeling the impact of increasing costs and pressure on household budgets.
This Directory of Support is designed to help, by pulling together all the financial and welfare advice on offer in the county.
We hope you will find the information useful.
Healthier Together
The Healthier Together programme relies upon patients and healthcare professionals working together to improve how local healthcare is delivered.
The website provide advice for parents, young people and pregnant women, and clinical resources to support healthcare professionals – which means that your child is likely to receive consistently high-quality care, irrespective of which healthcare professional they see.
Flu vaccination for winter 2022
We are now taking bookings for flu vaccination, so if you are eligible (or think you may be) for the flu vaccine, please speak to our reception team to book an appointment.
Online Access to Your GP Medical Records
The NHS wants to give people better ways to see their personal health information online. We know that people want to be able to access their health records. It can help you see test results faster. It also lets you read and review notes from your appointments in your own time.
From 1st November 2022, the NHS will be letting you see all the information within your health record automatically. If you are over 16 and have an online account, such as through the NHS App, NHS website, or another online primary care service, you will be able to see all future notes and health records from your doctor (GP). Some people can already access this feature, this won't change for you.
This means that you will be able to see notes from your appointments, as well as test results and any letters that are saved on your records. This only applies to records from your doctor (GP), not from hospitals or other specialists. You will only be able to see information from 1st November 2022. For most people, access will be automatic, and you won't need to do anything.
Your doctor (GP) may talk to you to discuss test results before you are able to see some of your information on the app. Your doctor (GP) may also talk to you before your full records access is given to make sure that having access is of benefit to you. There might be some sensitive information on your record, so you should talk to your doctor if you have any concerns.
It is possible that there are abbreviations used in your medical records that you are not familiar with. The NHS website has a useful glossary of some of the commonest medical abbreviations used: https://tinyurl.com/mssbvh5v.
These changes only apply to people with online accounts. If you do not want an online account, you can still access your health records by requesting this information through reception. The changes also only apply to personal information about you. If you are a carer and would like to see information about someone you care for, speak to reception staff.
The NHS App, website and other online services are all very secure, so no one is able to access your information except you. You'll need to make sure you protect your login details. Don't share your password with anyone as they will then have access to your personal information.
If you do not want to see your health record, or if you would like more information about these changes, please speak to our reception staff.
Fear of flying
9 Sep, 2022
Please note that as a practice we are no longer able to prescribe medication for anxiety / fear of flying.
Please click here to read the information leaflet regarding this, which also contains some links to resources.
With great sadness
It is with great sadness that we announce the death of Dr Gail Milligan..
Dr Milligan was a beloved member of the Practice and will be sorely missed by staff and the patients whom she supported and cared for with such dedication.
Dr Milligan qualified at Manchester University in 1998. She trained as a GP in Reading, and joined Camberley Health Centre in 2003. Dr Milligan was a dedicated and passionate GP and was much loved and respected by patients and colleagues alike. Her commitment and expertise in her various roles across primary care and medical education were clear to all.
Patients are invited to offer their condolences via our online memorial book accessed here: https://www.kudoboard.com/boards/rySkGLw0. These messages will be shared with Dr Milligan's family. If patients would like to leave flowers or personal cards, we are providing a safe area for you to do so by the entrance of the health centre.
There is also a fundraising page set up by her husband, to support a mental health charity, if you would like to donate: https://tinyurl.com/2s4zuzp6
We know that some members of the community will be impacted by this sad news and so we want to remind you of the support available within Surrey Heath. Visit Healthy Surrey for more information: https://www.healthysurrey.org.uk/mental-wellbeing/adults/self-help/a-z-and-useful-links/bereavement
Media enquiries can be directed to frimleyicb.media@nhs.net
We are looking at how to maintain the same level of service and continuity that we have strived for at Camberley Health Centre and currently have some locum staff working for us. However, we are also looking to recruit a more permanent staff member(s). Once this has been achieved, we will then notify those patients affected who their usual GP will be moving forwards. In the meantime, any patient whose usual GP was Dr Milligan can still book an appointment with any member of our team to ensure that they receive the care they need.
We thank you for your understanding and patience with our staff during this very difficult time.
Worry, Low Mood and Finding Work course
Worry, Low Mood and Finding Work course
Learn CBT based techniques to manage worry and low mood whilst finding work
This 6 week course will focus on building an understanding of how mental health can affect employment, how to manage this whilst looking for work & tips on staying well while job hunting.
In partnership with Richmond Fellowship, this is free to access & funded through the NHS for adults (17+) registered with a GP in Surrey.
To self refer:
The NHS Community Pharmacist Consultation Service
Get a consultation with a community pharmacist on the same day at a local pharmacy. Check these leaflets for more information.
Patient Access Emails
EMIS Health have received reports from both Patient Access users and people who have never registered for the service, that they have received Covid passport emails purporting to be from Patient Access.
They would like to share the following guidance from Patient Access:
EMIS Health advise users of Patient Access to check the name and email address of the sender; all emails from Patient Access will come via an email address that ends in @patientaccess.com.
EMIS Health advise users never to click on any log in links that you receive via email but to visit the site via the address bar of your browser instead so that you know you are on the genuine Patient Access log in page. You can find more information and guidance on our information security page here: https://www.patientaccess.com/security
EMIS Health strongly advise users to set up their Memorable Word security feature, as well as using biometrics (fingerprint ID) if they use the app.
Email addresses used to register for Patient Access account are secure. They do not share any data and no data is ever saved or stored on any device you use to access Patient Access.
Diabetes Walks for Health
Diabetes Walks for Health is a new, free programme designed
specifically for people living with Type 2 Diabetes.
Join us for a series of guided walks with trained walk leaders in Surrey Heath. They are devised to steadily improve health and fitness as well as providing useful and practical information to increase confidence in managing Type 2 diabetes effectively. This includes discussing topics such as food and nutrition, foot care, exercise, sleep, stress and signposting to local classes, activities and wellbeing sessions'.

When:
Restarting Jan 17th 2022.
Walks are weekly on Mondays, 10am - 11am (registration 9:45am), excluding Bank holidays
Where:
Frimley Lodge Park, Sturt Road, Frimley Green, Mytchett, Camberley GU16 6HY.
(Meet outside the café)
To book your place, or for more info:
Contact Craig Alford on 01276 707422 or email craig.alford@surreyheath.gov.uk
New Telephone System
We have taken on board the feedback from patients that the telephone system can be frustrating, slow and at times leave callers unanswered, despite our best efforts to rectify this.
We are therefore changing our telephone system to what we feel is a much improved one, allowing more control over incoming calls and ensuring they reach the right person in an appropriate time frame. This switch will be made on Wednesday 25th May 2022.
Much of the changes will be behind the scenes and therefore it may not be so apparent to patients calling in, but please be assured that there is a significant improvement expected with this.
We do ask for your patience as the new system is implemented and any early teething issues are resolved.
Please note that all incoming and outgoing calls on our system are recorded for training and monitoring purposes.
Change to mask wearing rules at the surgery
8 Jun, 2022
Following a downturn in the number of Covid19 cases, it is now no longer mandatory for most patients to wear a mask when attending the surgery, although you may still choose to wear a mask, if you prefer.
However, if you have any current symptoms consistent with Covid (fever, respiratory or flu like symptoms) you MUST still wear a mask when attending.
Thank you for your understanding and cooperation with this and we do think this is another positive step towards providing a more 'normal' service. However, we would still ask all staff and patients to be mindful that there will be some vulnerable patients who still attend the surgery for their healthcare needs.
Help us help you get the right urgent care and support
15 Jun, 2022
Frimley Health has launched a new electronic patient record system that is affecting the Accident and Emergency (A&E) departments at Wexham Park and Frimley Park Hospitals. Safety remains paramount, so please be patient with the staff. Waiting times are likely to be longer than usual.
Unless it's an emergency remember there are lots of alternatives for you to make use of:
Visit your local pharmacy
During the day contact your GP practice via online consultation or phone
Contact NHS 111 online, www.111.nhs.uk or dial 111. If you are calling NHS 111, please be patient. NHS 111 may advise you to contact your GP or its out-of-hours service or attend the Bracknell Minor Injuries Unit.
For minor injuries, such as sprains and strains, suspected broken limbs, or minor head injuries, visit the Minor Injury Unit at Brants Bridge in Bracknell or the High Wycombe Urgent Care Centre – open 8 am-8 pm 7 days a week.
Anyone with a life-threatening condition should call 999. Help us to help you by seeking alternatives to A&E where it is safe to do so.